There is no missing the fact that the U.S. is being hit with the highest inflation in decades, and it's likely driving us into a recession. The causes are well understood. A combination of policy-fueled demands, post-pandemic supply shortages, supply-side disruptions, and the war in Ukraine are all partly to blame.
Right now, the demand for labor is fierce and quit rates are at record highs, driving up the cost of hiring and maintaining talent. To help mitigate increasing labor costs, many businesses are choosing to automate manual workflow processes. Here's how workflow automation can help your business help weather inflationary pressures.

Creates Efficiencies: One of the biggest benefits of workflow automation is the ability to reduce operational inefficiency. Automating processes that require little technical experience can save hours every month in manual labor, and valuable resources can be assigned to higher value tasks. Paying workers to carry out manual tasks is expensive and unnecessary.
Frees Up Time: When your team spends hours of their time doing manual tasks, they won't be spending the time needed to brainstorm, be creative, and drive innovation. Workflow automation can give employees back the time they need to complete more valuable functions.

Reduces Revenue Loss: A workflow automation system can eliminate redundancies and significantly increase accuracy throughout the work process, saving time and the expense of rectifying expensive mistakes.
Saves Space: Commercial property costs are rising, which means that the cost to store paper is also increasing. Automated workflows can reduce the need for filing cabinets, boxes, and storage bins and digitized documents means searching for and finding information is easier and faster.
Understandably, this is a difficult time for all businesses. Automating your business processes could help your company to operate at maximum capacity while controlling costs during inflation.
If you're interested in learning how workflow automation can help you do more with less effort, please reach out to The Swenson Group at (888) 234-2077.
About TSG
The Swenson Group (TSG) is an award-winning Bay Area Managed Service Provider that has helped thousands of organizations achieve more by leveraging cost effective technologies to be more productive, secure and cost effective. Services include Managed Print, Document Management, IT Services and VoIP. Products include MFPs, Copiers, Printers and Production Systems, Software and Solution Apps.
For the latest industry trends and technology insights visit TSG's main Blog page.
What is a Document Management System?
A beginner's guide to managing documents from paper to intelligent automated workflows.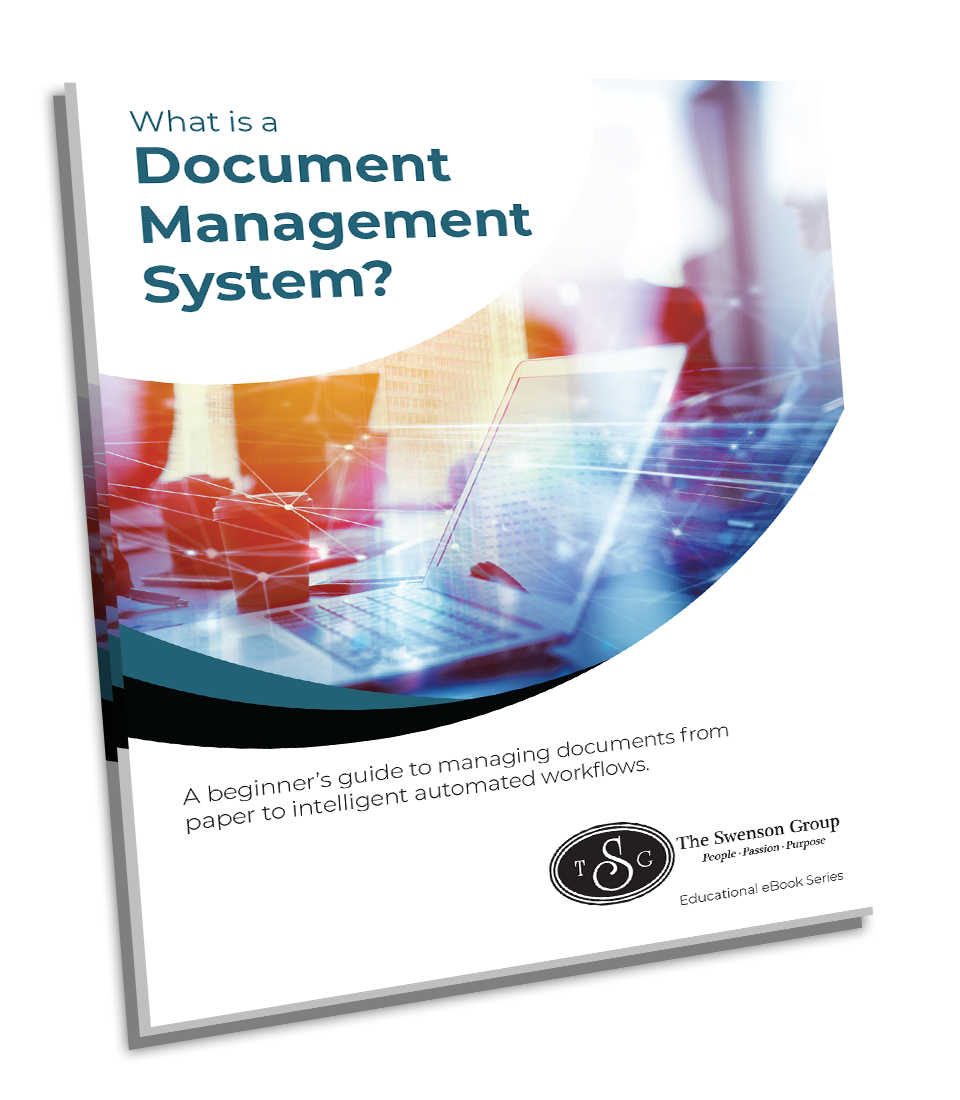 7 Avoidable Mistakes Most IT Managers Make
Popular eBook for IT leaders and Business Owners.