All-In-One Laser Printer
With a compact all-in-one printer your office can print, copy, scan and fax conveniently and cost-effectively.
---
Benefits of Multifunction Laser Printers
In a traditional office setup there might be one device for printing, another one for copying, a third for faxing and a fourth for scanning. With an all-in-one printer, your office can have all of these functions and more with one compact, space-saving piece of equipment.
Multifunction A3 laser printers offer fast printing, quality copying, simple scanning and even faxing capabilities. For small businesses with fewer than 10 employees, this type of printer can meet the printing and copying needs of the entire office without wasting space, time, or money. As an added bonus, you can reduce your office's carbon footprint by using a multifunction printer instead of four separate pieces of office equipment for printing, scanning and faxing.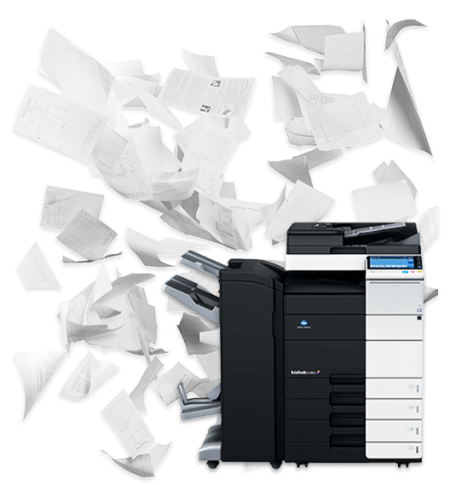 Choosing an All-In-One Laser Printer
There is a wide range of multifunction laser printers to choose from, so how do you know which option will meet the needs of your office environment?
---
When you contact The Swenson Group, we will assess the needs of your business to help create an office technology suite from the top industry brands. Having the right all-in-one laser printer can create an opportunity for your office to cut costs, increase convenience, and maximize productivity – allowing your staff to focus on what really matters to your business.

Like to learn more? Let's start a conversation!
View products offered at TSG or give a TSG team member a call today!
Products – Main Navigation