In 2018, it seemed like almost every week there was yet another major headline competing for our attention. Data breaches exposing customer information at Facebook, Under Armour and Equifax were just a few.
While cyber attacks will always be on the radar, there are other technology trends to watch that can help you grow your business, improve your productivity, and keep your business safer and more secure.
More Effective Connectivity
Remote working is a rising trend that promises to continue, but with it will bring new challenges. More remote workers mean more devices, and more applications to keep them connected. As more businesses migrate to the cloud, connectivity will become more of an issue.
In order to protect your business, be sure to address shadow IT and its potential threat in your IT policy. Shadow IT includes remote workers using unauthorized applications, software, and devices that are unknown to company IT. As more apps flood the market, IT professionals will need to focus on developing policies, protocols and enforcing them in order to address shadow IT.
Data Management
With smartphones, laptops and tablets being used more every day, data management is a growing trend to watch. It's been estimated that 90-percent of the world's data was created in the past two years, and this growth shows no signs of stopping. As 5G rolls out, data speeds will increase. Automating workflows and implementing Enterprise Content Management (ECM) will increase in 2019.
Increased Reliance on Managed IT Services
As skilled labor gets harder to find, and as companies adopt more complex technological needs, many businesses will look for a third party provider to supplement their IT teams, or as a solution to meet business challenges.
This coming year will be all about data – connecting it, managing it and keeping it safe. If you'd like to learn more about how to optimally manage your data this year, please give us a call and let's talk about solutions that will keep your business running smoothly.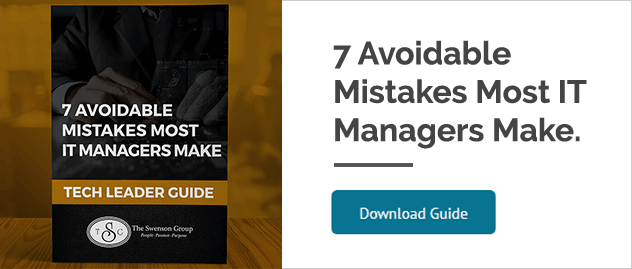 Contact TSG
1 888.234.2077
request@theswensongroup.com
207 Boeing Court
Livermore, CA 94551
United States