Data breaches are an expensive but ever-present risk for companies today. With so much at stake, many businesses wonder if transitioning to digital documents is a safe way to manage their data. In fact, digital documents are even more secure than paper documents. Consider these factors:
Tracking – With paper documents, it's hard to know who has accessed them. Digital documents, however, can be overseen with access logs allowing you to know who opened, edited, or otherwise accessed your data.
Indexing – Lost files are a big risk and a big expense for businesses, and are quite common when you store paper copies of documents. Digital documents can be indexed by keywords, allowing you to quickly and easily find exactly what files you need, with minimal risk of losing a file.
Access Control – Paper files can easily slip into the wrong hands. With digital files, you can not only see who accessed your documents, but restrict access via password or other identifier to only authorized people.
Backup Copies – Paper files take up a large amount of storage space, so it's commonplace for businesses to have few, if any, backups of  paper documents. Because digital files can be automatically backed up and stored in multiple on- and off-site locations, including the cloud, it's easy to make sure you have copies of all your data so you can easily recover from a large-scale data loss, such as a fire.
With this increased security, your business is better equipped to handle whatever comes your way. From disaster recovery to audits, having your files stored digitally will help you get through it quickly and painlessly.
So how do you make sure your digital documents are secure? These tips can help:
Have your print environment assessed by a Managed Print Services provider. This will help expose any risks your company faces.
Use automated security features on your printers to help reduce human errors.
Use print authentication for all print tasks. This limits access, while also forming a usage log.
By digitizing your files, you can maximize the security of your data this year and enjoy the many benefits digital document management can have for your company.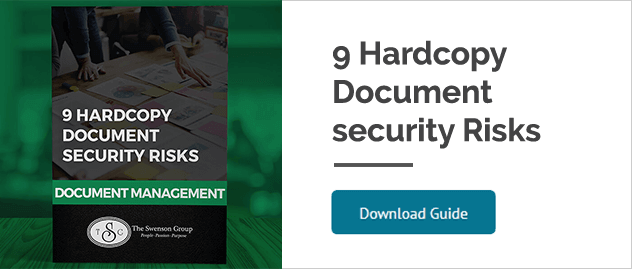 Contact TSG
1 888.234.2077
request@theswensongroup.com
207 Boeing Court
Livermore, CA 94551
United States