Ask most IT professionals if they enjoy managing printers and their facial expression will say it all.
The answer tends to be a resounding NO. But because printers connect to the network, the responsibility of buying, fixing and responding to printer related tasks tends to fall on people in the IT department.
27% of all IT help desk calls are printer related.
That means almost one in every three IT requests in your office could be distracting your IT people from higher priorities.
Here are some common printer distractions:
Clearing paper jams
Responding to print driver issues
Ordering toner
Managing toner inventory
Replacing parts
Dealing with staff complaints
Even if you have a service contract for your printers, chances are you are still ordering supplies on a reactionary basis and dealing with end user requests.
Small to medium size businesses with limited IT resources and budget allocation for printing are discovering the benefits of outsourcing their office printing needs to a partner like The Swenson Group.
Outsourcing basic tasks like printer maintenance, supply ordering and end user support can free up precious IT resources and achieve the following benefits:
Predictable budgeting
Proactive supplies ordering
Inventory management
Remote monitoring
Responsive on-site service
Empty cartridge recycling
If you're an IT person or someone that calls IT when you have a printer issue, we invite you to learn why so many of our customers have made the shift from internal to external print management, something we call our Managed Print Services.
Interested in what a Managed Print opportunity might look like for your business? Let's talk!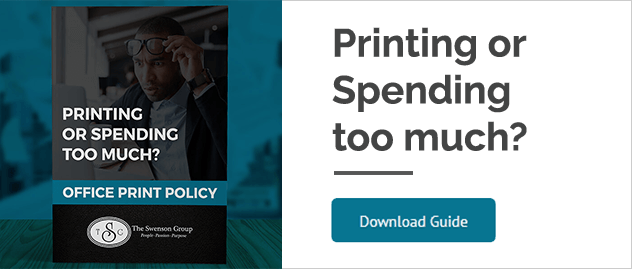 Contact TSG
1 888.234.2077
request@theswensongroup.com
207 Boeing Court
Livermore, CA 94551
United States