Have you ever thought about how much time is spent in an average day searching for paper documents that may have been misfiled, lost, stolen or damaged? Now think about how you could better utilize that time to help propel your business forward and increase profits and efficiency. The solution? Scan existing documents for secure storage in the cloud.
The average knowledge worker spends about 2.5 hours per day, or roughly 30% of the workday, searching for information. Source: IDC
Document Scanning 101
When documents are scanned, images are captured and converted to a digital format. Thanks to Optical Character Recognition (OCR) technology, text is rendered easily searchable by keyword, saving you valuable time and money.
The Benefits of Document Scanning
In addition to time wasted searching through desktop trays, file cabinets, and bankerss boxes for an elusive document, employees and customers alike can quickly become frustrated with the entire process. Searching and retrieving digital documents is fast and easy, with a number of other benefits, including:
Enhanced customer service. Efficiency is the key to great customer service. With document scanning, documents can be digitized and indexed with metadata that allows you to effortlessly and quickly locate documents by invoice number, customer name, or other identifying criteria.
Reduction in storage space. You'll gain square footage in your office as the need for paper file storage is reduced.
Improved security. Digital files remain secure with data encryption protocols and backups can be stored on secure remote servers for added peace of mind.
Compliance. Easily adhere to regulatory compliance standards where documentation is often a requirement.
Ease of collaboration. Easily share documents across the office or across the country.
Want to learn more about the benefits of document scanning? Contact us to schedule an appointment, and begin improving document management in your office today!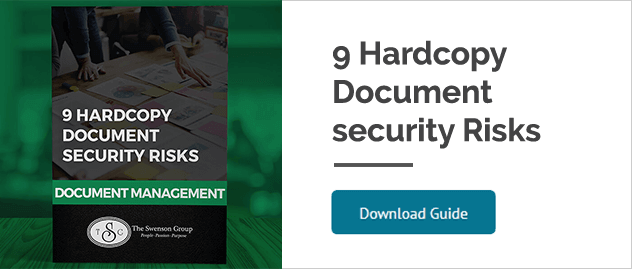 Contact TSG
1 888.234.2077
request@theswensongroup.com
207 Boeing Court
Livermore, CA 94551
United States