In the ever-evolving world of printing technology, the age-old debate between laser printers and inkjet printers continues. As the two heavyweight contenders in the realm of printing, laser and inkjet printers offer distinct advantages and trade-offs that cater to a diverse array of needs.

The decision between these printer titans can shape your printing experience. We've put together a comprehensive comparison of laser printers and inkjet printers, exploring their strengths, weaknesses, and the factors that can help you make an informed choice for your printing needs.
Laser Printers
Pros:
Print Speed: Laser printers are known for their fast printing speeds, making them ideal for high-volume printing tasks.
Text Quality: Laser printers excel at producing sharp and crisp text, making them suitable for documents with a lot of text content.
Low Cost Per Page: Over the long term, laser printers tend to have a lower cost per page due to their higher page yield toner cartridges.
High Volume Printing: They are well-suited for heavy-duty printing tasks commonly found in office environments.
Durability: Laser prints are more resistant to water and fading, making them a better choice for documents that need to last.
Consistency: Laser printers offer consistent print quality, even after long periods of inactivity.
Cons:
Initial Cost: Laser printers usually have a higher upfront cost compared to inkjet printers.
Color Printing Cost: While color laser printers are available, they tend to be more expensive, and color printing costs can be higher compared to inkjet printers.
Size and Weight: Laser printers are often larger and heavier than their inkjet counterparts, which might not be suitable for smaller spaces.
Limited Photo Printing: While laser printers can handle basic photo printing, inkjet printers generally provide better quality for photo printing.
Complex Maintenance: Laser printers can require more complex maintenance if issues arise with the fuser or other components.
Warm-Up Time: Laser printers often require a short warm-up time before they start printing.

Inkjet Printers
Pros:
Cost-Efficiency:

Inkjet printers

typically have a lower initial cost, making them more budget-friendly.
Color Printing Quality: Inkjet printers offer superior color printing quality, making them great for photos and graphics.
Compact Size: Inkjet printers are generally smaller and more compact, making them suitable for smaller spaces.
Photo Printing: They are ideal for printing high-quality photos with vibrant colors and fine details.
Wide Media Compatibility: Inkjet printers can handle various types of media, including different paper sizes and specialty papers.
Energy Efficiency: Inkjet printers tend to consume less power, especially when in standby mode.
Cons:
Print Speed: Inkjet printers are generally slower than laser printers, especially for high-volume printing.
Ink Drying: Inkjet prints can smudge if they come into contact with moisture, which might affect their durability.
Ink Replacement Cost: The cost of ink cartridges can add up, particularly for high-volume printing, resulting in a higher cost per page over time.
Maintenance: Inkjet printers may require more frequent maintenance, including printhead cleaning and alignment adjustments.
Long-Term Reliability: If not used regularly, inkjet printheads can dry out and become clogged, affecting print quality.
When choosing between a laser printer and an inkjet printer, consider your specific needs, such as the volume of printing, the types of documents you'll be printing, whether color is important, and your budget constraints. Both printer types have their strengths and weaknesses, so it's essential to weigh the pros and cons against your individual requirements.
About TSG
The Swenson Group (TSG) is an award-winning Bay Area Managed Service Provider that has helped thousands of organizations achieve more by leveraging cost effective technologies to be more productive, secure and cost effective. Services include Managed Print, Document Management, IT Services and VoIP. Products include MFPs, Copiers, Printers and Production Systems, Software and Solution Apps. For the latest industry trends and technology insights visit TSG's main Blog page.
What is a Document Management System?
A beginner's guide to managing documents from paper to intelligent automated workflows.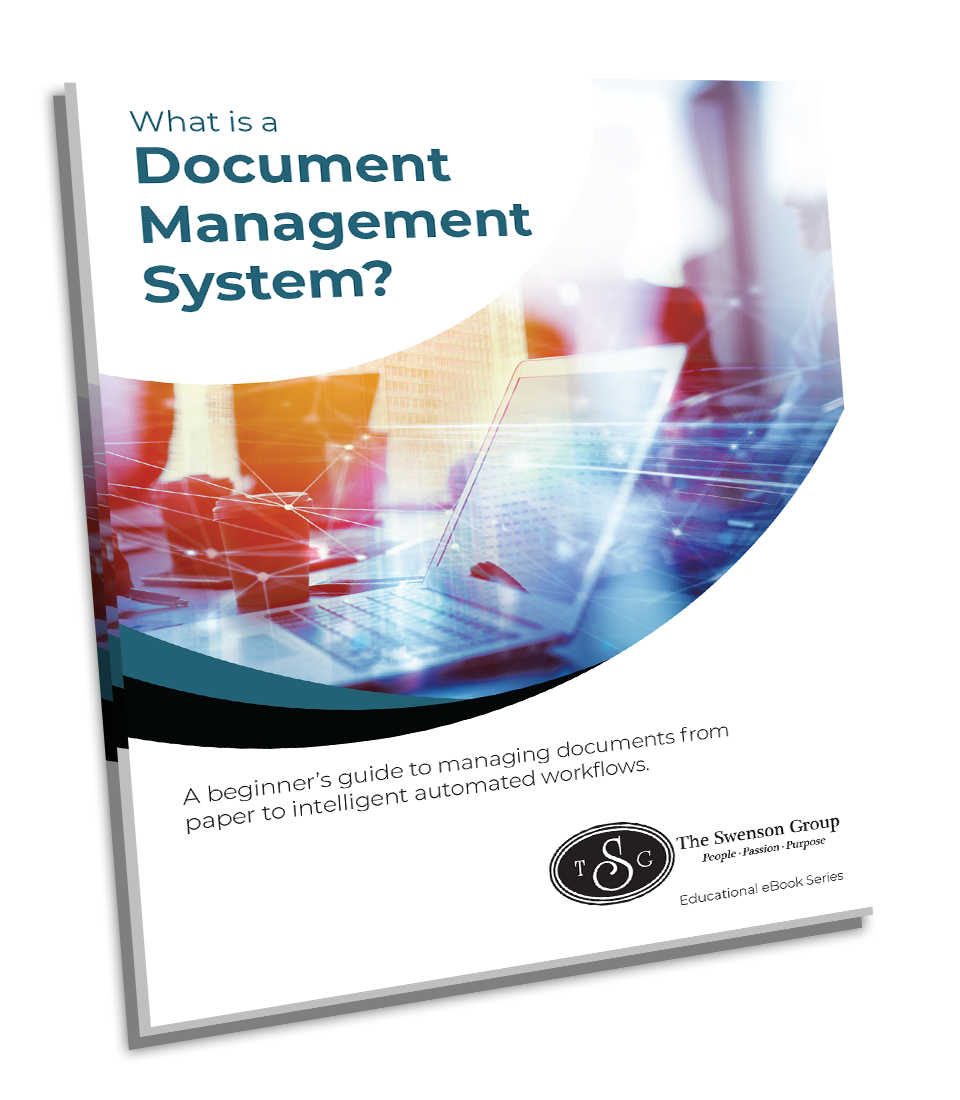 7 Avoidable Mistakes Most IT Managers Make
Popular eBook for IT leaders and Business Owners.