How much money do you spend on print? More importantly: how much money do you waste on unnecessary printing? With print taking up as much as 15% of the IT budget in many companies, this is an essential question to answer, and the answer may surprise you. Take a look at how much paper ends up in the recycling bin each day. Every page equates to money your company could be spending on something else. Ready to start reducing your print spending? Consider these ideas.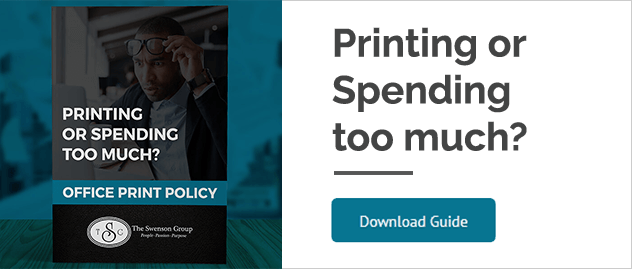 Change Your Settings
Many users don't stop to consider their printer settings before hitting the 'print' button. Most prints do not need to be top-quality color documents. Instead try:
Default to black and white printing. Printing in color is more expensive.
Double-sided printing. This gets the most use out of your paper.
Draft-quality printing. This setting can save money on documents that are for internal use.
Toner-friendly fonts. Some fonts, like Times New Roman, use less toner than others, like Arial. A simple change can make a big difference.
Check Your Settings
Users should get in the habit of doing a print preview before printing a document. This simple step can catch a lot of errors, such as incorrect paper orientation or margins, or the wrong size font, for example. Correcting these problems before printing can save a lot of time and money on wasted prints.
Upgrade Your Printer
Some of your unnecessary print costs may actually be due to the inefficiency of your print device. A newer model may be more reliable and energy efficient, saving you time and money.
Use the Cloud
By converting to digital workflows and documents stored in the cloud, you can reduce the need to print many of your documents at all. Today's multifunction printers make converting easy, and your employees will be able to access documents more efficiently and enjoy better collaboration.
So, how much money might you be overspending on your print practices?  By making simple changes and reducing your reliance on paper documents, you could see significant savings that will help boost your company's profits.
Want to learn more? We can help you get your print costs under control! Ask us about a complimentary, no-obligation print assessment.  We'll provide you with an accurate picture of where your print environment stands currently, including an inventory of devices, actual print volumes and all print-related expenses, and with this information we'll pinpoint opportunities to help reduce waste and save you money!
Contact TSG
1 888.234.2077
request@theswensongroup.com
207 Boeing Court
Livermore, CA 94551
United States