Are you looking for different ways to boost your productivity? For many companies, the answer is hidden within a common piece of equipment – the office printer. This essential tool is used by most employees on a regular basis, making it a critical point in workflows, but it is often overlooked when it comes to assessing productivity. With a variety of advanced features, today's printers can speed up productivity across your organization.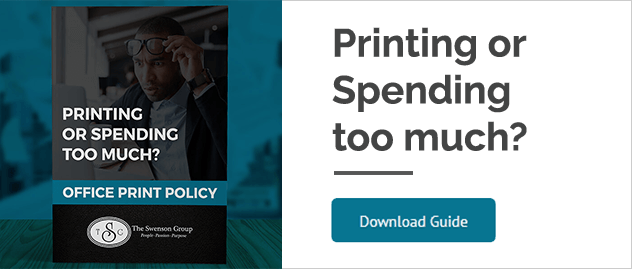 User-Friendly Interface
Gone are the days when printers were difficult to use. Today's printers often have a touch-screen interface. This more intuitive navigation makes it easier for users to access the full range of features on the printer.
Enhanced Document Management
Modern multifunction printers are able to do more than simply print, scan and fax. Often, they have a variety of built-in capabilities such as optical character recognition. This means you can do more with your data, more easily, and all from the same device, which saves time and enhances productivity.
Better Paper Handling
If your office regularly prints large volumes, buying the right printer can help you do it more efficiently. With larger paper trays, increased output speeds, and expanded duty cycles, these printers are ideally suited to print-heavy offices.
Finishing Processes
How do you currently handle collating, stapling, and color printing? Outsourcing these tasks can be expensive and time consuming. Today's printers can do these tasks for you, keeping your money in-house and speeding up the process.
Mobile Printing
Mobile printing allows access to the printer from any authorized device, regardless of location. This means employees can get more done faster, whether at home, on the road or in the office.
Security
Your printer handles a lot of sensitive data on a daily basis, making it a target for cyberattacks – which can grind your business to a halt. With built-in security features such as encryption and user authentication, today's printers can help keep your data and organization safe from these attacks.
Do you need to enhance your office's productivity? Look no further than the office printer. With a multitude of ways to speed up your workflows, today's printers are more valuable than ever before.
Thinking of adding a new printer to your fleet? Contact The Swenson Group for a no-obligation quote.
Contact TSG
1 888.234.2077
request@theswensongroup.com
207 Boeing Court
Livermore, CA 94551
United States