Plenty of companies claim to have the "best service in the business," but few actually have a way to measure how happy their customers actually are. At TSG, we use the Net Promoter Score system to measure our customers' experiences.
We are proud to announce that TSG achieved a PERFECT Net Promoter Score in 2021!
While we're not in the habit of patting ourselves on the back, we have to thank our customers for helping us to achieve this tremendous honor!
So, What Exactly is the Net Promoter Score?
The net promoter score is a widely used market research metric that takes the form of a single survey question. It asks respondents to rate the likelihood they would recommend a company, product, or service to friends and colleagues.
Satmetrix is the company behind the Net Promoter Score. They define "World Class Service" as an NPS score of 70 or above. Some of the best-loved companies reached scores into the 70s and 80s in 2020, including:
Southwest Airlines – 71
The Ritz Carleton – 70
USAA – 69
H-E-B – 65
Cricket Wireless – 54
Apple – 51
Receiving a perfect score in customer satisfaction for the entire year is like winning the Triple Crown, the World Series, and the Super Bowl in the same year! It's close to impossible!
Imagine asking over 1000 customers to rate your service and getting every one to rate you a 9 or 10, out of 10!
Here's What Our Customers Are Saying…
"Our TSG rep is always the best! She is such a great person and is always welcome at AEI Consultants." – AEI Consultants
" Alex is very communicative, friendly, and took the time to show me how to print 11×17 with no issues! Literally learned something new and it was so valuable to my work knowledge." – Notre Dame De Namur University
" Our technician left the broken machine in a state where we could still use it while the part was on order, then left us some Swenson mints! Al is the best tech!" – Jubilee Christian Center of San Jose
" Al repaired the machine on all counts, and it's working great now!" – Sandia National Laboratories
The Benefits of Partnering With TSG
When you partner with The Swenson Group, you'll experience benefits including consistently low service times, a team of trained and certified technicians, and an increased level of advanced training.
As a TSG partner, you'll also enjoy access to our Priority CSC Hotline for Improved Field Support including:
Improved Average Level of First Call Completion
High Level of Customer Experience
Remote Diagnostics
Want to work with a company that picks up the phone when you call, returns your calls, cares about your business, and whose processes undergo a stringent annual validation? Give TSG a call! When you partner with us, you're assured professional, reliable service and maximum performance from all of your office products!
What is a Document Management System?
A beginner's guide to managing documents from paper to intelligent automated workflows.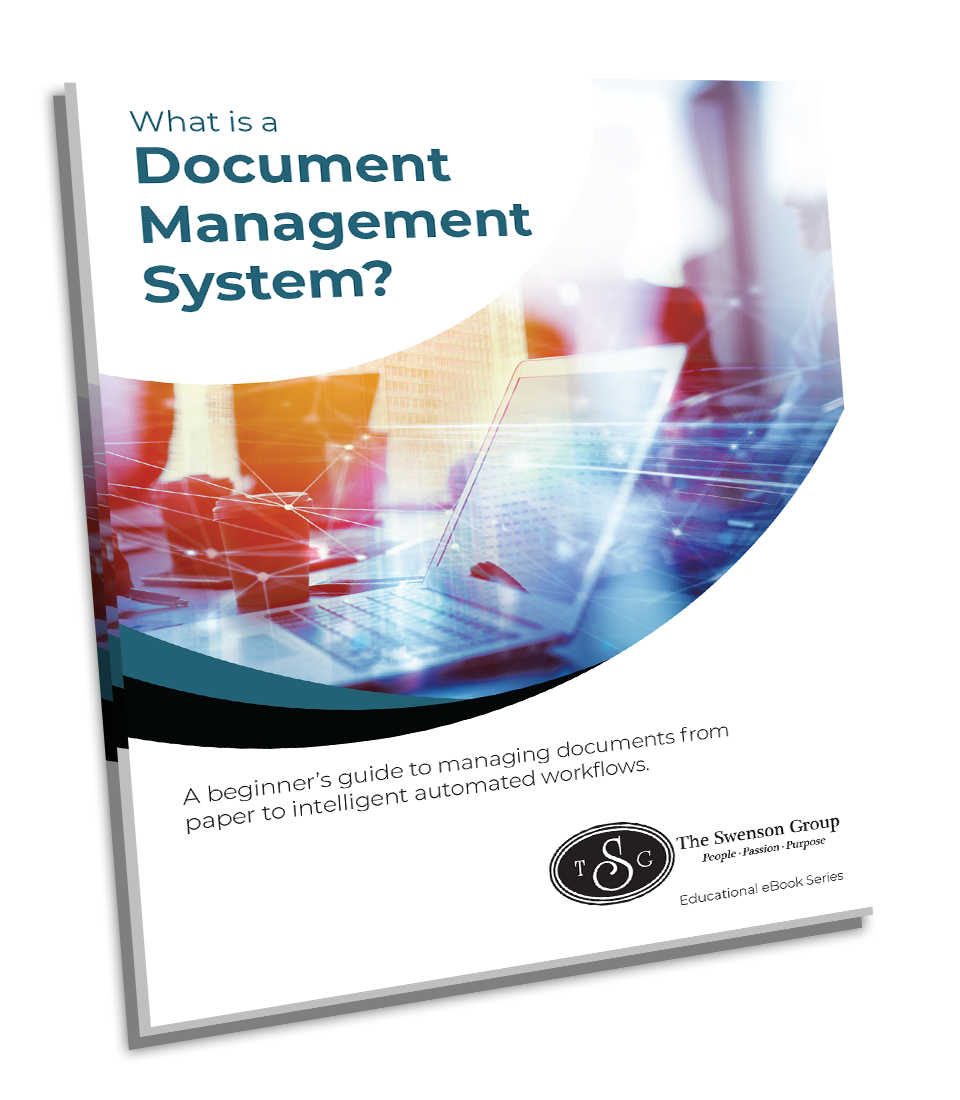 7 Avoidable Mistakes Most IT Managers Make
Popular eBook for IT leaders and Business Owners.