Before the COVID-19 pandemic, the attitude of many executives and managers toward remote or distributed work was one of skepticism. But now, two years later, many naysayers have changed their thinking and are now planning for a future where some of their employees will work from home or should we say, "from anywhere?" Hybrid collaboration is the new way of getting business done, and it is essential to embrace the technology trends that support it to help your team achieve long-term success.

Challenges of Hybrid Collaboration
Almost 80% of organizations plan to have a mix of workers in the office and working from home. Now, they face a challenge in how to optimize the blending of their in-office and remote teams with creating spaces and technology experiences. For instance, the employee experience needs to be flexible, contextual, and devoid of the digital friction that exists in many hybrid-operating models.
Fresh Technologies that Support Work-from-Anywhere
Making the move to a hybrid collaboration has pushed the need for innovative technologies to support this new model. Here are six fresh technologies that are helping businesses and their employees meet the challenges they face with "work-from-anywhere" models.
Document Management Systems – Documents in a central location can enable users to work and collaborate regardless of their locations. A DMS gives managers the ability to identify what processes are and aren't working well. They can easily follow up with employees no matter where they are working from.
Content Management / Digitalization – Having a digitalized repository for documents helps make it easier for employees to access documents as needed. This can streamline processes and create better workflows for remote teams.
Secure Collaboration – Provides increased data security, governance and compliance that allows a dispersed workforce to securely work together.
Automated Workflows – By automating workflows, you can keep business processes and procedures more consistent, such as automatically routing documents to be approved to the appropriate employee. By automating tedious processes, remote and in-office workers can focus on other tasks.
Smart Meeting Rooms – Integrating tools like video conferencing software, whiteboard tools and cameras into boardrooms can help creative a seamless communication experience for all.
Unified Communications – UC helps ensure a higher level of interaction within the dispersed workforce. It provides access to the same secure system from wherever the employee is working from by providing multiple ways for communication, including video calling or instant messaging from a variety of devices.
Is Your IT Infrastructure Ready?
Managing hybrid teams can be challenging. Is your IT infrastructure ready for the task? You don't have to scramble to do it all on your own. Working with a Managed IT provider can help make the challenge much easier by helping you set up seamless collaboration for your hybrid team. Once your infrastructure is ready, your team can focus their energy and effort on what matters most, doing the work they need to get done.
About The Swenson Group

The Swenson Group (TSG) is a leading Bay Area Managed Service Provider that offers complete, customized solutions. Services include Managed IT, Managed Print, VoIP and Document Management. Products include printers and copiers, multi-function laser printers, production systems, software, and solution apps. TSG has been helping organizations reduce costs and improve productivity with Bay Area office technology and IT infrastructure support services since 1993. For the latest industry trends and technology insights visit TSG's main blog page.
What is a Document Management System?
A beginner's guide to managing documents from paper to intelligent automated workflows.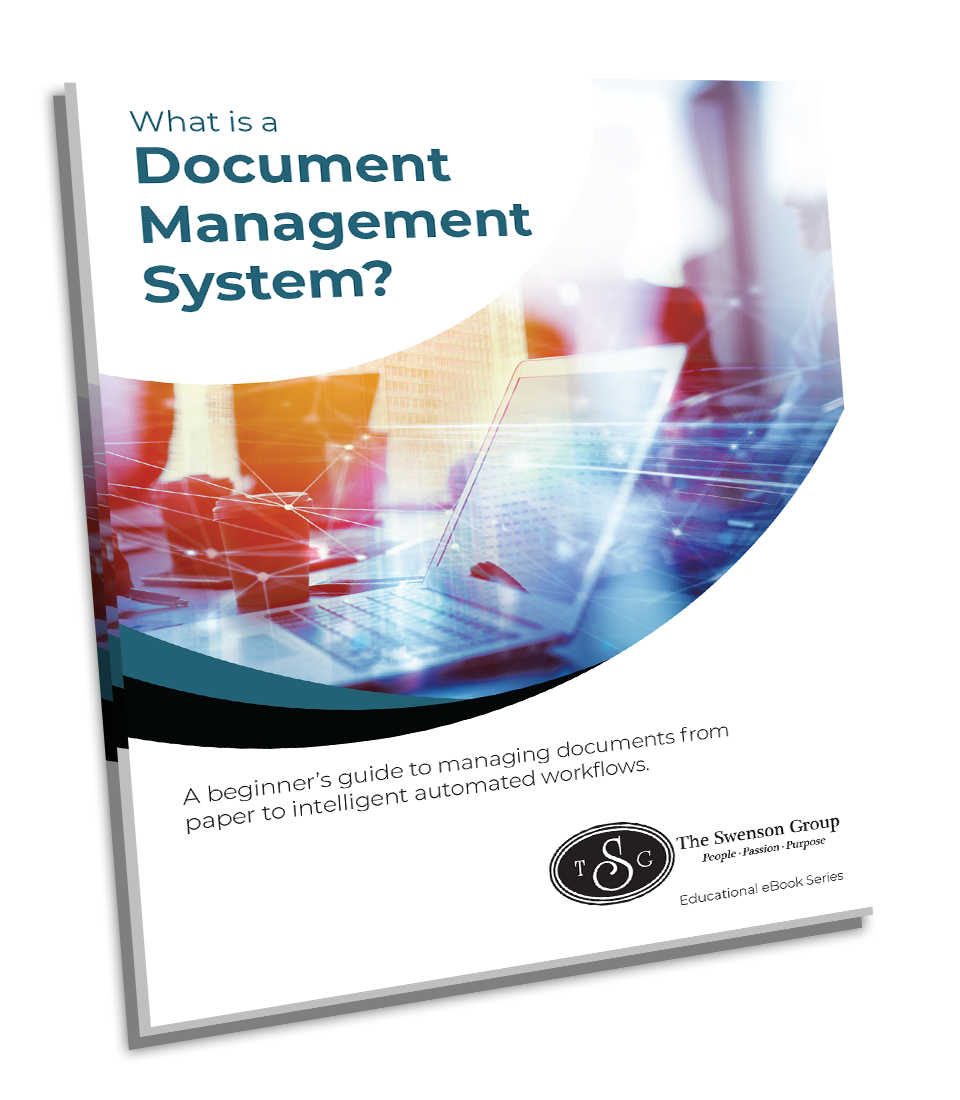 7 Avoidable Mistakes Most IT Managers Make
Popular eBook for IT leaders and Business Owners.