Managed Print Services (MPS) is an efficient, effective way to reduce the cost of print within your organization. But what exactly is Managed Print Services? This rather broad term may mean different things to different people, but the bottom line is the same: MPS helps users gain visibility over their print environment, reducing costs, and increasing employee productivity.
When you think of printing, you likely think in literal terms, of freshly output documents sitting in the output tray of your printer. In terms of MPS, printing is defined as the overall cost of the optimization and management of your entire print fleet, document output, and all processes involved as well as the following:
Regular service and maintenance requests.
Supplies and consumables management.
Management of desktop printers, scanners, and high volume printers (devices).
All documents produced by on-site staff and mobile workers.
Considering that experts estimate that 15 percent of the average operating budget goes towards printing, it's worth exploring every option with regards to savings. MPS can help cut those costs by up to 30 percent, making it a popular, cost effective solution. Be sure to choose a MPS provider with a great deal of experience and industry knowledge to maximize your investment, and remember: Managed Print Services is about more than just printer management. A well-established MPS provider will also:
Perform a thorough print assessment to determine your true cost of printing, inventory your printer fleet, and formulate a plan to help you succeed.
Optimize your print environment from start to finish, managing and monitoring print output.
Map out printer placement, to streamline print processes and increase productivity.
Eliminate inefficient or outdated equipment, replacing items with energy efficient models where appropriate to save money, and reduce your environmental footprint.
Automate or digitize outdated, time consuming processes.
Train employees for a seamless transition.
Implement rules based printing to cut costs and reduce waste.
Provide secure access to printing for those who work outside of the office environment.
An MPS provider is invested in your business, helping to reduce print costs, lower your energy usage, and improve productivity by optimizing, managing and monitoring your entire print infrastructure. To find out if Managed Print Services is right for you, contact a TSG representative today to get the discussion started!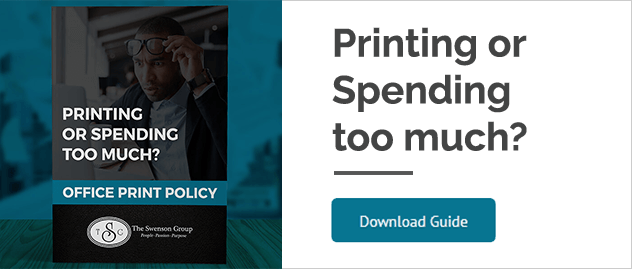 Contact TSG
1 888.234.2077
request@theswensongroup.com
207 Boeing Court
Livermore, CA 94551
United States