When it comes to printer problems, a minor problem can mean a major delay if you have to call the help desk or wait for a service technician to come. Fortunately, many print problems can be easy to fix on your own. Check this list before calling in the experts for a faster fix.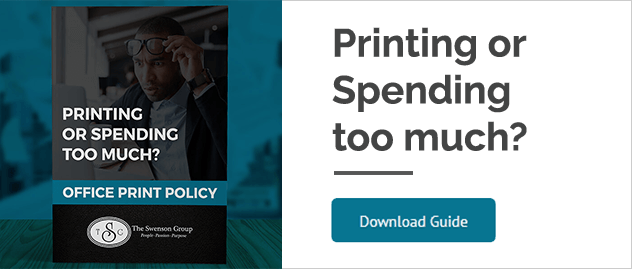 Not Printing
If your printer isn't printing, it may seem like a major problem, but there are many possible solutions.
Is it plugged in and connected to the network?
Did it print on a different printer, due to print rules in your office?
Is there paper? Is it the right type of paper for what you're printing?
Try rebooting the application, your computer, and/or the printer
Slow Printing
If your printer seems to be running slow, it may not be a problem at all. Printers take time to warm up when they are first turned on or come out of sleep mode. High quality printing can also be time consuming, as can the printing of large images.
To speed up the process, you can reduce your print quality to "standard" or "draft" and eliminate images. Adding RAM to your printer can help your printer process images more quickly.
Poor Quality
If your prints aren't coming out as crisp as you'd like them to be, there may be a simple explanation. Are your print settings on "draft" mode? Are you using the right paper in your settings and at the printer?
Paper Jams
If paper gets jammed, it can cause a serious problem if not dealt with properly. Fortunately most printers now show you exactly where the jam is, and the owner's manual can help guide you in removing it. Be sure to pull paper straight out so it doesn't tear.
To avoid paper jams in the future:
Keep your paper dry
Shuffle the edge of the paper when you put it in the printer
Keep the paper path free of debris
Use the paper guides to help the paper load correctly
These simple solutions can often solve some of the most common printer problems. If the problem persists give us a call at The Swenson Group and we'll be happy to help. Learn about our TSG Service Advantage here!
Contact TSG
1 888.234.2077
request@theswensongroup.com
207 Boeing Court
Livermore, CA 94551
United States