FOR IMMEDIATE RELEASE:
Livermore, CA, May 18, 2017:  The Swenson Group – an award-winning, privately owned Managed Service Provider that offers IT services, document management and office technology – has been recognized by Konica Minolta for their outstanding commitment to service, support and client satisfaction.
The Swenson Group (TSG) specializes in business technology services that help their clients improve productivity and control expenses.  Popular offerings include:
Konica's Pro-Tech Service Award recognizes a select group of Konica Minolta service organizations who have demonstrated an exceptional commitment to service responsiveness, the ability to execute in a professional manner and achieve elite levels of client satisfaction. To receive this award TSG was required to complete a rigorous and far-reaching evaluation process.
"Receiving this prestigious award for our tenth year in a row is a real honor for our people and tremendous validation of our People, Purpose and Passion formula" stated Jeff Swenson, Vice President of Service and Operations. "Most clients considering an office technology partner are forced into a wait and see position regarding the vendor's service capabilities and this award validates our TSG service advantages."
To be recognized by Konica Minolta as a Pro-Tech Service Organization, every element of the organization's service operation is scrutinized, including technical expertise, inventory control, dispatch systems, management skills and customer satisfaction. This rigid standard is the reason the Pro-Tech Award has become such a powerful symbol of dedication and proficiency.
Client benefits feature a broad range of demonstrated technical capabilities and management skills including:
Professional, client-oriented service department management and administration policies
Service response times significantly better than the industry average
Preventive maintenance programs that ensure maximum uptime and superior performance
Inventory control systems that provide immediate access to replacement parts and components
Comprehensive training programs and performance reviews to maintain the highest level of expertise
Skilled technical specialists and service personnel trained on specific products
To learn more about The Swenson Group's award-winning products and services, contact your TSG representative today!
P: 888.234.2077 or 925.960.8910
E: request@theswensongroup.com
W: www.theswensongroup.com
---
About The Swenson Group
The Swenson Group (TSG) is a leading Bay Area Managed Service Provider with complete, customized office IT and print management solutions. TSG has been helping organizations reduce costs and improve productivity with Bay Area office technology and IT infrastructure support services since 1993. Our expertise is evidenced by our talented, nationally known, award-winning staff. At TSG, client satisfaction is our highest priority. We empower our people with the tools and technology to continually provide our clients with a positive experience, powered by our passion for excellence.
###
What is a Document Management System?
A beginner's guide to managing documents from paper to intelligent automated workflows.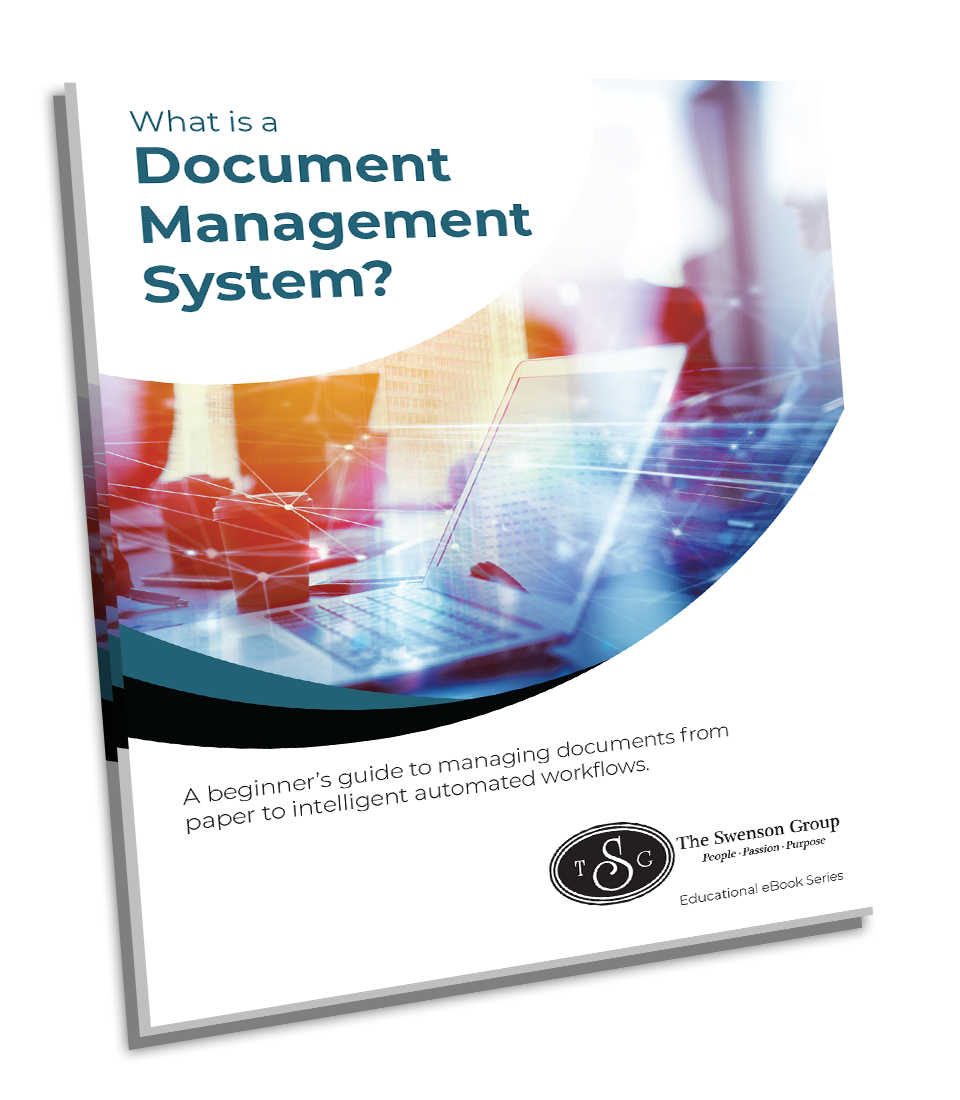 7 Avoidable Mistakes Most IT Managers Make
Popular eBook for IT leaders and Business Owners.