In order to successfully run a nonprofit organization, operating within a strict budget is critical. Many nonprofits have print environments that are unmanaged and out of control, resulting in unnecessary costs. They often have to rely on printers that are older or not operating at full capacity, resulting in printer downtime and expensive service calls.
Managed Print Services is an effective solution to many of the printing challenges that nonprofit organizations are facing. Here are just a few of the ways an MPS provider can benefit a nonprofit organization:
Reduce costs. A Managed Print Services provider will conduct a thorough print assessment at the onset of your partnership. They will provide you with a fact-based report that will detail the number of print devices in your inventory and give insight into your actual printing costs, volumes and behaviors. The report will highlight opportunities to realize immediate cost savings. In fact, Managed Print Services can help nonprofit organizations reduce printing costs by as much as 30 percent.
Develop and maintain a predictable operating budget. Because your Managed Print Services provider will serve as a single point of contact for all of your print-related needs, printing costs become more predictable.
Allow you to get the most from your print equipment. For budgeting reasons, many nonprofit organizations are using out-of-date printers and don't always have routine maintenance performed on the equipment. This often results in printer downtime and a loss in productivity. A Managed Print Services provider will proactively perform routine service on your print devices to prevent any gaps in service and minimize the need for costly repairs.
Increase efficiency. With the information gained during the print assessment, a Managed Print Services provider will be able to design a print environment for your organization that will improve the efficiency of your workplace. In addition, they can configure the printers in your workplace to make them more user-friendly.
Streamline workflow processes. Many nonprofit organizations still rely heavily on paper processes. However, not only does paper present an increased risk for data loss, but it's also highly inefficient. An MPS provider can digitize documents to increase data security and streamline document workflow processes to boost productivity.
These are just a few of the ways that a nonprofit organization can benefit from a partnership with an MPS provider. Please contact us to learn more about these benefits and find out if your organization will qualify for one of our nonprofit programs.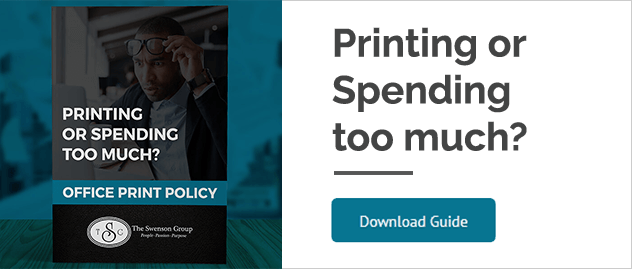 Contact TSG
1 888.234.2077
request@theswensongroup.com
207 Boeing Court
Livermore, CA 94551
United States