In today's office, the printer is perhaps the most important piece of equipment. Yet often little thought is given to the monitoring and management of these devices – until they break down. A Managed Print Services provider can provide important services that help keep your printers running smoothly.
Maintenance and Repairs
When you partner with a Managed Print Services provider you get proactive maintenance that aims to detect small issues before they become a big problem. When an issue is found, it can be quickly repaired before it affects your workflow. When your printers are well-maintained, they'll last for a long and time and maintain their print quality.
Volume Monitoring
If you're not monitoring your print volumes, you're missing out on important data that can save you money. An MPS provider monitors your print usage, and is able to give you a summary of your total print volumes broken down by user or department.
When you know how much you're printing, you can make better choices. You may be able to reduce your overall print volume, saving money in the process. You may also find that you are not using your printers to maximum efficiency, allowing you to develop a better print environment.
Supply Ordering
Many companies don't have a cohesive strategy for supply ordering. This ad-hoc strategy can lead to running out of supplies completely, making work stop until a delivery can be made. On the other extreme, you may have too many supplies and be unable to use them before they expire, wasting your money. A Managed Print Services provider can manage your supplies for you eliminating these problems. By monitoring your printers, MPS can detect when you will need more supplies and automatically deliver them.
Managed Print Services can take the burden of monitoring your print environment to help avoid printer breakdowns and keep your print environment running smoothly. When your printers are healthy, your company can keep running without interruption.
Not sure if Managed Print Services is right for you? Give us a call and we'd be pleased to answer any questions you may have.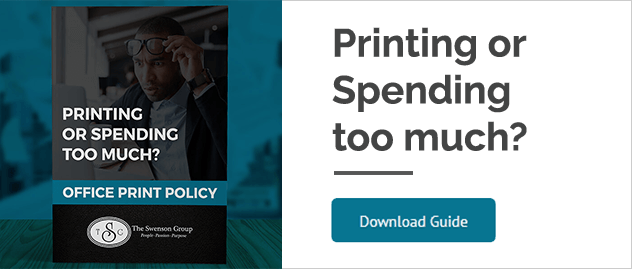 Contact TSG
1 888.234.2077
request@theswensongroup.com
207 Boeing Court
Livermore, CA 94551
United States